Who to Invite to the Cookout.
Kind of a strange subject for prayer meeting Bible study. Right? Well, with the beginning of summer with the great food that comes from the barbecue - the good times in the back yard at the picnic table, I thought of several passages from God's Word that put a different slant on having dinner with our family and friends. That's who we usually invite to our cook-outs. Right? However the Bible treats who we should invite to our picnic table a little differently than we might be accustomed to.
The Bible's slant on having a successful cookout.
A successful cookout from God's Word's point of view isn't just having the best marinade sauce for cooking the chicken or some secret steak sauce or a great potato salad. Neither is it have a great bunch of friends over to enjoy a meal. No. If we were to apply the Bible to our cookouts we would have to consider another important ingredient - choosing an opportunity to be a blessing to others. But that's just one of the ingredients that makes for a successful cookout - let's take a look at God's Word and see who we should invite for dinner.
12 Then Jesus said to his host, "When you give a luncheon or dinner, do not invite your friends, your brothers or relatives, or your rich neighbors; if you do, they may invite you back and so you will be repaid. 13 But when you give a banquet, invite the poor, the crippled, the lame, the blind, 14 and you will be blessed. Although they cannot repay you, you will be repaid at the resurrection of the righteous." (Luke 14:12-14, NIV)
Did you recognize the first part of this passage? Sounds a lot like what you and I do. I'm not picking on us because we like to invite our friends to lunch. Jesus is using a very familiar setting to teach a point - the point of inviting others into your life who might not be pleasant to be around but have the need of friendship or need to be a part of your ministry. Some of these folks might indeed be lacking in prosperity or have health problems - perhaps even have emotional problems - Jesus is really teaching here that we should not look for opportunities merely please ourselves or to pick those who are pleasant who are going to be around us - but to extend our generosity and willingness to fellowship with to those who might just not have anything to offer in return.
Biblical Cookouts are Illustrations of
Who We are Willing to Share Our Lives With.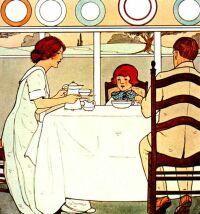 Looking for recipients of God's grace. David had established himself as King of Israel but still had some unfinished business to take care of. Many times we might be tempted to become complacent in our comfortable situation but God's grace has a restlessness to it. David couldn't get his friend Jonathan out of his mind. They had been fast friends and now Jonathan was gone.
The king asked, "Is there no one still left of the house of Saul to whom I can show God's kindness?" Ziba answered the king, "There is still a son of Jonathan; he is crippled in both feet." (2 Sam 9:3, NIV)
It wasn't enough that Jehovah had blessed David by making him king - establishing his reign - David wanted to show kindness to the family of king Saul who had actually tried to kill him. So he sent for a former court servant of King Saul's, Ziba and asked him if there were any survivors. As it turned out there was a teenage son of Jonathan, Saul's grandson who had survived near death but was crippled for life because his nurse had dropped him in the haste of getting away to safety. The custom of the day was for the incumbent dynasty of a king to be completely eliminated by the incoming dynasty. That is, the new king usually killed off all survivors of the old dynasty to eliminate the possibility of a threat to his throne. David, however, had received his kingdom from the LORD and as one who trusted in the LORD looked to be a blessing to the former dynasty. This was completely against the traditions of the day. He looked for an opportunity to show kindness. - the Hebrew word is chesed. Chuck Swindoll based a whole message on this word and developed the thought that chesed meant "relief." The family of king Saul needed "relief" and David meant to provide God's "relief." The Hebrew is a language filled with word-pictures. The picture here is that of one who leans down and gives someone a helping hand. The picture is to bend the knee in order to help someone who needs lifting up.
David looked for an opportunity to break with tradition and to help any survivors of king Saul's family. Notice in our passage that Saul's grandson was crippled in both feet. By way of application, perhaps we should stop looking for the strong, the popular or attractive and look for the unattractive, the disadvantaged to invite to our "table" - the table of kindness and blessing. Are you getting the idea that dinner tables in the Bible are not just a place to eat? It is a place where we can be kind to others - to show chesed - to be a blessing to others. God's mercy. But there's more.
Mephibosheth son of Jonathan - a man who was
crippled physically and emotionally.
We often have the attitude that who we share our lives with is our choice. David shows us in this passage that that is not true for the disciple of Christ. David was looking to square a debt with Saul - a debt of doing kindness because Saul was the LORD's anointed even though Saul had meant evil. What David didn't know that the object of this kindness had problems.
Now when Mephibosheth, the son of Jonathan, the son of Saul, was come unto David, he fell on his face, and did reverence. And David said, Mephibosheth. And he answered, Behold thy servant! [7] And David said unto him, Fear not: for I will surely shew thee kindness for Jonathan thy father's sake, and will restore thee all the land of Saul thy father; and thou shalt eat bread at my table continually. [8] And he bowed himself, and said, What is thy servant, that thou shouldest look upon such a dead dog as I am? (2 Samuel 9:6-8, KJV)
I'll deal with the first part of this passage in a bit - let's look at verse 8. Why did Mephibosheth call himself a dead dog? That expression is the lowest form of self-depreciation possible for an Israelite. The dog was despised by the Israelite - a dead one was like a double-whammy. We can only imagine what had been going through Mephibosheth's mind both then and perhaps years before. To be crippled meant to be despised - for Mephibosheth to be in the presence of the King must have certainly been like facing his worse fears. This kind of meeting certainly could not have a good ending for Mephibosheth. He was both crippled physically and emotionally and scared but that did not matter to David, for he was determined to show kindness. David not only spared his life but restored the wealth of his grandfather - which would have been considerable and invited him to sit at the King's table continually as an honored guest - like one of his very own sons!
Listen as King David speaks to Ziba King Saul's former court servant:
"Thou therefore, and thy sons, and thy servants, shall till the land for him, and thou shalt bring in the fruits, that thy master's son may have food to eat: but Mephibosheth thy master's son shall eat bread alway at my table. Now Ziba had fifteen sons and twenty servants. [11] Then said Ziba unto the king, According to all that my lord the king hath commanded his servant, so shall thy servant do. As for Mephibosheth, said the king, he shall eat at my table, as one of the king's sons. (2 Samuel 9:10-11, KJV).
Now for the first part of this passage - David graciously gave Ziba, the servant and his resources to Mephibosheth to manage his new-found wealth. I love the last part - "As for Mephibosheth, said the king, he shall eat at my table, as one of the king's sons." Complete, unconditional acceptance of this lame boy - to the point that he was to be treated as one of David's sons! What a wonderful picture and example of Christlike behavior toward those whom we might not wish to associate with.
And Mephibosheth lived in Jerusalem, because he always ate at the king's table, and he was crippled in both feet. (2 Samuel 9:13, NIV) Just one more comment - Chuck Swindoll makes this comment about this passage (a loose quote) "And the tablecloth of the Kings table covered the lame feet of Mephibosheth."
A Turn-about is fair play
And after these things he went forth, and saw a publican, named Levi, sitting at the receipt of custom: and he said unto him, Follow me. [28] And he left all, rose up, and followed him. [29] And Levi made him a great feast in his own house: and there was a great company of publicans and of others that sat down with them. [30] But their scribes and Pharisees murmured against his disciples, saying, Why do ye eat and drink with publicans and sinners? [31] And Jesus answering said unto them, They that are whole need not a physician; but they that are sick. [32] I came not to call the righteous, but sinners to repentance. (Luke 5:27-32, NIV)
Now here's a twist on this cookout theme. How willing are we to accept the invitation of others to enter into a relationship? Levi (make that Matthew) was the equivalent of an employee of the IRS - Internal Revenue Service. The problem was that publicans were Jews who sided with the Roman government in that they could collect taxes for Rome and could impose, informally, additional taxes for their personal gain. They were hated by the patriotic Jew. Yet Jesus struck up a conversation with Levi - in fact, Jesus was about to call him into the ministry of being one of the twelve disciples! Immediate acceptance of each other by both Jesus and Levi - what an unlikely combination. Here's the twist. Jesus had invited Levi to be a disciple of His - now Levi invited Jesus - to a great feast. - and He accepted. It appears this was somewhat of a celebration - Jewish rabbi eating and drinking in celebration with a tax collector! Of course the religious leaders of the day criticized Jesus. This sort of socializing just wasn't done in that day - but Jesus did and as a result of His willingness to take Levi, the tax collector, in as a friend, the author of one of the Gospels became a close friend and disciple of Jesus.
We need to be looking for friendships in unlikely circumstances. I'm not suggesting that we associate with sinful men by adopting their lifestyles - but we do need to get rid of the holier-than-thou attitude that most unsaved pick up on and be ready to strike up friendships that could lead to the salvation of others - barbecue evangelism - Hmmm.
Rules of Conduct at the Cookout
Also a dispute arose among them as to which of them was considered to be greatest. [25] Jesus said to them, "The kings of the Gentiles lord it over them; and those who exercise authority over them call themselves Benefactors. [26] But you are not to be like that. Instead, the greatest among you should be like the youngest, and the one who rules like the one who serves. [27] For who is greater, the one who is at the table or the one who serves? Is it not the one who is at the table? But I am among you as one who serves. (Luke 22:24-27, NIV)
The rules for the host are simple - the host is to serve not to be served. The occasion for our passage here is the last supper. During this supper as recorded in the Gospel of John Jesus taught all the disciples a lesson - that anyone who was to be a true disciple of His must be a servant as Jesus was. Jesus makes this point in verses 26 and 27 - He asks the question who really was the greatest at the table (answer, Jesus). We need to understand how these suppers usually went. There were the honored host and guests - they were the ones at the table. Then there were the servants who served the guests. Problem was that there were no servants at this supper - not as you would imagine - Jesus was the greatest at the table and He was the servant - the one who washed the feet of the disciples as recorded in John 13:3-20.
The rules for us all are quite simple - we need to look for opportunities to express the servant's heart and to be willing to open our lives up to others in friendship - others whom we might not be attracted to in order to show kindness and hospitality and be a blessing in their lives.
Who do you invite into your "cookouts" - into your life? The Biblical example shows a selfless attitude and an interest in others - others who might not necessarily be able to return in kind your acts of hospitality and kindness. Let us all determine to follow this Biblical recipe for a successful summer of making new friends through our "cookouts" of kind and hospitable acts.